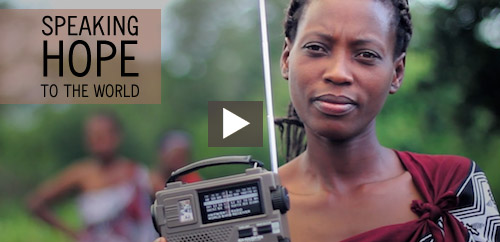 This video took nearly a year to develop from the initial concept to logistics to travel to shooting and editing. Making a five-minute film to represent all that TWR does is a difficult task. Any script would have the tendency to be too culturally specific.
It was ultimately decided to draw from Romans eight.  Having one narrator speaking the entire time provides the option of replacing him with narrators speaking different languages. This allows for a consistent message across all cultures and languages without the need of subtitles or dubbing.
The purpose of the video is to raise awareness of how God is using TWR all over the world, and we couldn't be more thrilled with how it turned out. By God's grace, we'll continue speaking Hope and expanding the reach of the Gospel to the whole world!
INTERESTING FACTS:
Filmed in six different countries (USA, Bolivia, Slovakia, Swaziland, India, China).
Tyler, the director, flew nearly 50,000 km since October 2012 to film scenes.
We rented a city bus in Bratislava (Slovakia) and filled it with extras.
Andrew helped arrange the filming in Swaziland and drove Tyler there from Johannesburg Jan 15-18.
Zodwa Tfwala (our Swazi helper) has worked for TWR for over 20 years. She arranged for 40 villagers to gather at a homestead to film the Africa scenes.
The principal of the public school in Hong Kong has a family member working for TWR, so we were given unprecedented access to film on the school's campus.  This relationship was not known before we started scouting locations.
There is not one native English speaker in the entire video.
Peter, the English narrator, is from Uganda and works at Compassion International.  He vividly remembers TWR's ministry as Rwandan refugees would listen to the broadcasts during the Rwandan genocide in the early 90s.